What are Seminar Events in Learning Zone?
Instructor-led training events still make a big part of learning in organizations. These can take the form of big conferences, classroom training that span several days, short webinar activities, and more.
Learning Zone allows you to publish, manage, automate and control many of the processes related to learning events. For example, you can:
Allow people to sign up to relevant events, managing the capacity and overbooking of sign-ups
Define approval flows for booiking request, inlcuding notifications to direct managers and other approvers
Automatically send notifications to participants, managers, and trainers
Manage the allocation of trainers, rooms and assets to training sessions, avoiding time-conflicts
Track the participation of users in training events
This article and other articles in this section, will take you through the steps required to set up training seminars and events.
Adding a Seminar Activity to a course
A Seminar activity can be a part of your blend in your Learning Zone courses. To add one to your course, follow these steps:
Turn editing on in the course
Click "Add activity or resource", choose "Seminar" and click Add
Now you can define various parameters for this activity. Note that the Seminafr activity allows you to add as many iterations or "Events" of this activity as you like. You only need to define the general properties of the activity once, then you can add more and more events with different dates.
Here is some information about some of the options you can define in the seminar activity:
Name: The title of the Activity - e.g. "Advanced Excel Workshops" or "Monthly Innovation Meetups"
Description: A more detailed description of the seminar activity
Approval options: Here you may define what type of sign up approval is required - for example - direct manager approval
Manager Reseravations: Use this to allow managers to reserve seats for their team members in upcoming training events, and to set the seat limits and dealines for these reservations
Calendar options: You can set the events in this seminar activity to be publish to all site users (Site calendar), to learners enrolled in the course that the Seminar is part of (Course calendar) or to none at all
Activity completion: If you wish the Seminar Activity to be tracked as part of course completion tracking, you may want to set this to "Show Activity as Complete when conditions are met" and mark either "Fully attended" or "Partially attended" as completion conditions
After you made all the relevant choices, click "Save and Display" to move on to creating your first Event in this activity.
The screenshot below shows some of the options when adding a Seminar activity.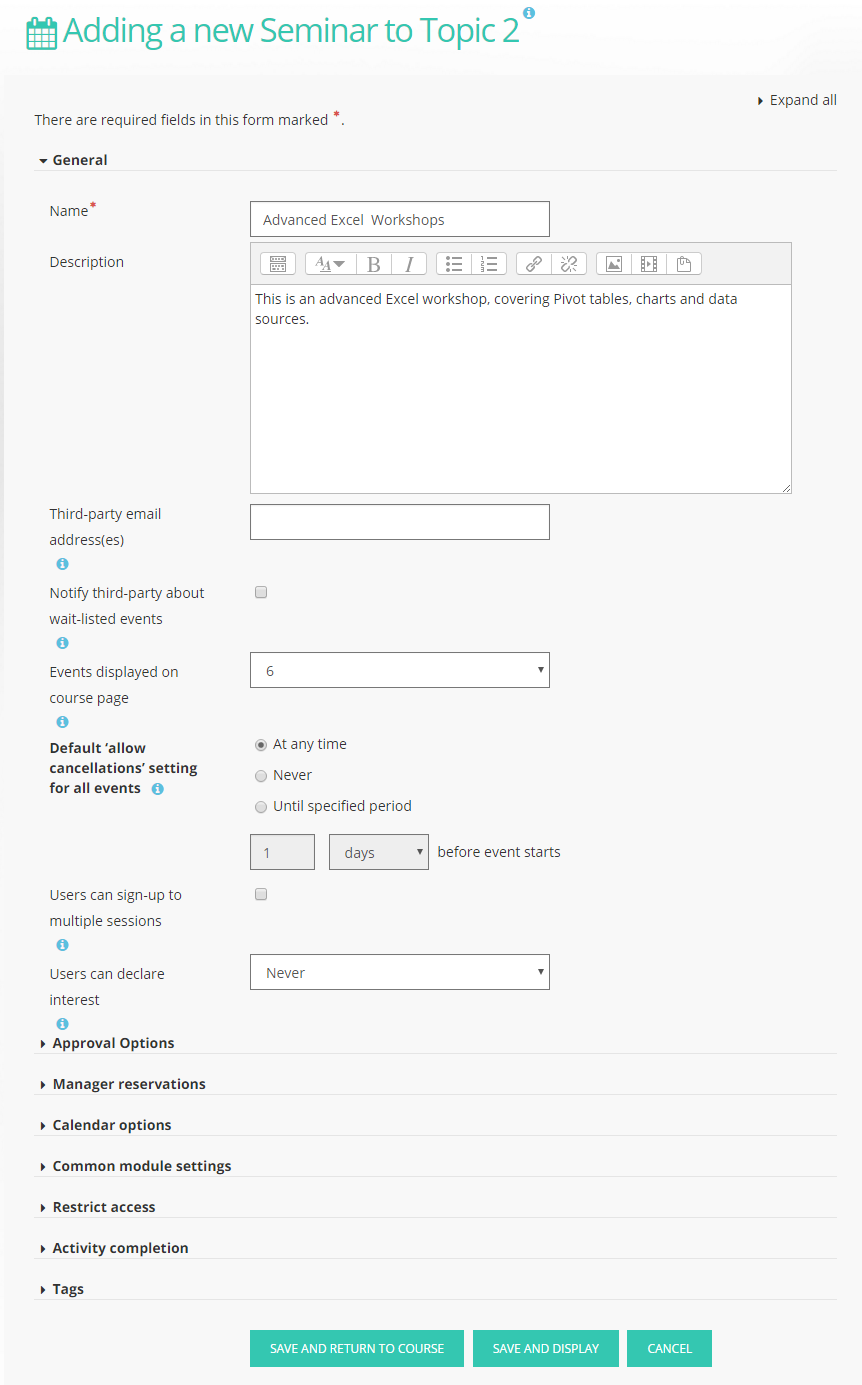 Creating new Events in the Seminar Activity
Now that you completed the more general settings, you can add as many events as you like to the Seminar activity. To do so, please follow these steps:
Click "Add a New Event"
Edit and add dates to the event as needed. You can add as many dates as you like to the event, and assign available rooms and assets that were set up on your Learning Zone to each date
Configure additional fields to set Sign up, Waitlist and Cancellation policy for the event, and to add more information about the cost, event details and any additional custom event fields which are available for you
Click "Save Changes"
The screenshot below shows an example form for adding new seminar events
Signing Up Participants for an Event
The event you created should now appear on the course page, and user may ask to sign up to the dates they with to participate in.
You may all add participants to the event yourself in some case - for example when recording the participation of users in a event which has already occurred, or when someone asks you to sign them up.
To add participants to an event manually:
Click "View all sessions" on the course page
Click the "Attendees" link next to the session you wish to add participants to
In the Actions combo choose "Add Users" (you may also add multiple attendees by typing their ID Number or usernames, or by uploading a CSV file)
Search and add any of the users you'd like, and click "Continue"
Review the selected users list, and decide if you'd like to send them notifications
Click "Confirm"
The screenshot below demonstrates how learners see the sessions on the course page