It can be helpful to know whether a learner has completed his required E-Learning Module/SCORM inside one of your course, wouldn't you say? Learn how to make that happen here:
Step 1:Click 'Turn Editing On' inside your course
Step 2: Add a SCORM activity OR click on an existing activity of this type
Step 3: At the bottom of the page of the 'Edit Settings' page, under 'Activity Completion' click the                following:
Completion tracking - select "show activity as completed when conditions are met"
Require View - select this option only if you consider opening the module as completing the activity. Remember, selecting this option with a combination of others may cause problems in the activity tracking itself.
Require Grade - select if completion of this activity requires receiving some grade from the module
Require Minimum Score - select this option, and put in the desired score,  if you would like your learners to obtain a certain grade before completing the activity. Remember that the E-Learning Module must report a score (after a final test, for example), for this option to work as planned.
Require Status - select 'Passed' or 'Completed' based on the E-Learning Module style. This option is set in the program where the module was first made.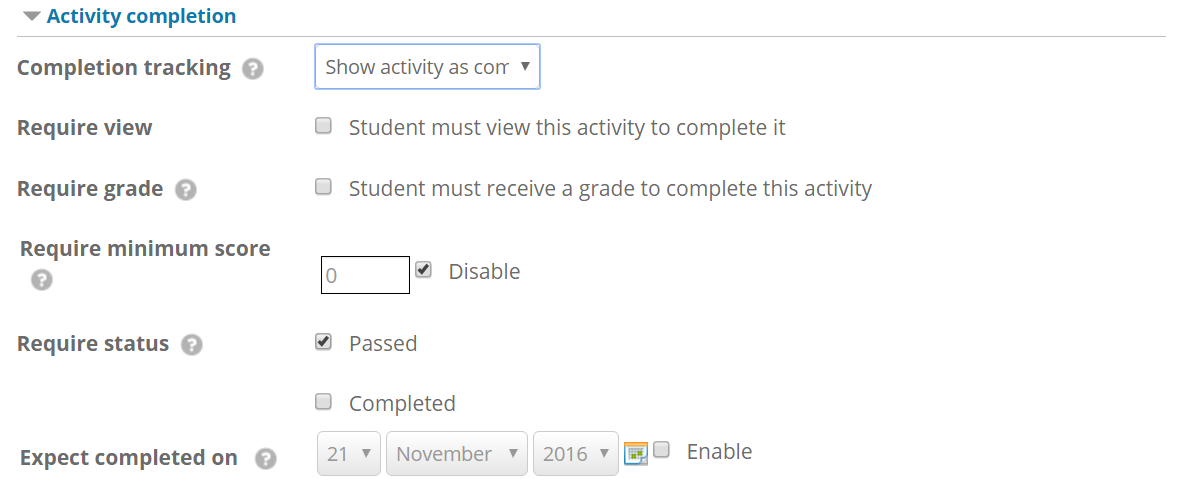 Step 4: Save your changes