Haven't you heard? It's all about the social learning! Learning together not only makes learning more effective in all fields, whether it be business, marketing, or whatever your learning is about - but it's also a lot more enjoyable! And the best part - LearningZone has the tools, built right into the system, to do just that! Let's see how:
So what's a forum?
A forum is a built-in feature in your LearningZone; where you have the ability to create forums and manage them as well.
A forum can have many uses: a social space for employees to get to know each other, managing discussion groups around the topics taught in your courses or reading materials, a platform for continuation of a discussion that was started in a face-to-face forum, or a knowledge base for managers, instructors, and employees where they can seek the advice and information they need.
The messages in a forum aren't limited to text only, and can be combined in each message or response with a media component, such as: pictures, videos, and links that can help expand on, enrich, or make the information clearer and more accessible to everyone.
The forum activity allows users to have non-synchronized conversations as well. This means that conversations may span weeks and are not limited to a one-time live event. 
So how do we do this?
Creating Forums
A forum is one of the activities offered inside a course, and so it must be made in a course. If you have yet to make a new course, check out our articles in our Knowledge base on how to create and manage new courses.
Step 1: After creating a new course or opening a new one, click 'Turn Editing On'. Then, click 'Add an Activity or Resource'.

Step 2: In the list that opens, select 'Forum'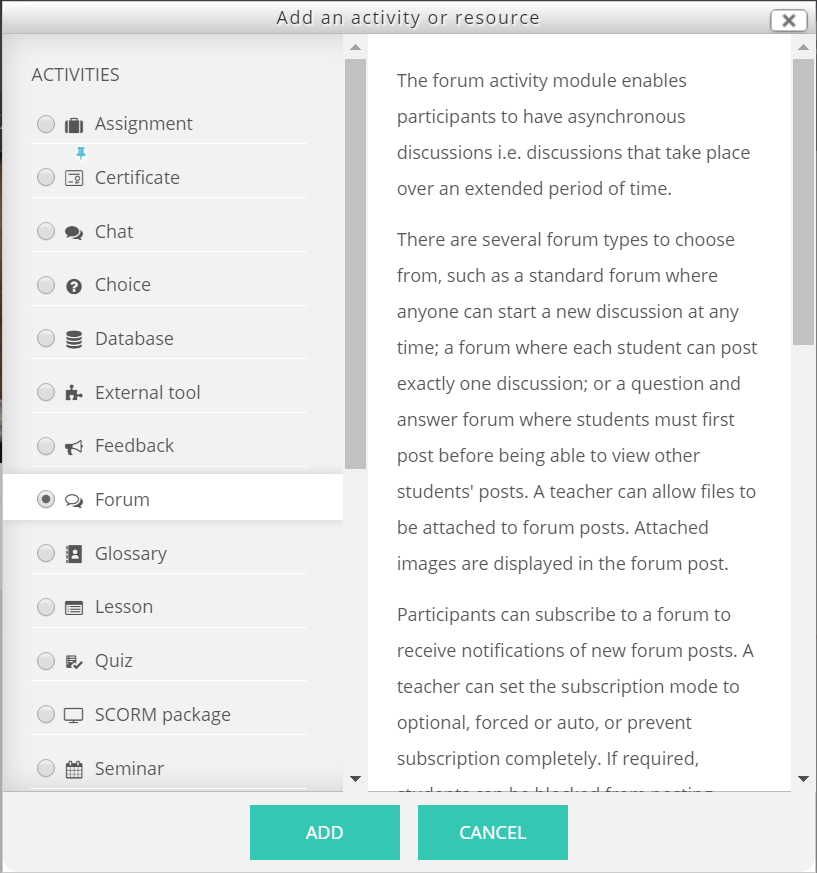 Step 3: Fill out these general settings according to the following guidelines:
Remember! Some of these settings may not appear in your system based on different administrator settings.
Forum Name - mandatory field. The name of the forum will appear in the name of the activity shown in the course.
Description - mandatory field. Here, the users will be able to see the forum's background information and main purpose.
Display Description on Course Page - if you choose to mark this box, the description you wrote in the previous setting will be shown under the forum name in the course page.
Forum Type - here you can choose the type of forum you'd like based on your needs. There are several types of forums: 
A Single Simple Discussion - this forum contains a single topic, displayed all on one page. This option is great for short, focused discussions.
Standard Forum for General Use - this is an open forum where anyone can suggest a topic of discussion. This is the best type of forum to use for general use, for any goal.
Each Person Posts One Discussion - this type of forum allows each person to publish exactly one topic of discussion (which all the other users can respond to)
Q and A Forum - this forum requires the user to respond himself before he can view other users' responses.
Rating; Aggregate Type - the aggregation type sets how a user's answer ratings are combined to produce his final grade. There are several options: Average of Ratings, Count of Rating, Maximum, Minimum, and Sum.
Tips and Suggestions:
You can use forums to manage the already existing knowledge pool in your organization. For example: you can create a 'Questions' forum - where managers and employees can bring up topics and discussion questions, and then freely answer them, while using their fellow colleagues to gain information and enrich themselves.
The forum can also serve as a social platform for the employees, for general announcements, personal notifications and more.