The SCORM/AICC module is a course activity which allows you to upload any SCORM or AICC package to your course.
What is SCORM?
SCORM (Sharable Content Object Reference Model) is a collection of specifications that enable interoperability, accessibility and reusability of web-based learning content. SCORM content can be delivered to learners via any SCORM compliant Learning Management System (LMS) using the same version of SCORM.
SCORM definition from Wikipedia.
Using SCORM in LearningZone
LearningZone support SCORM 1.2.
When you notice there is a problem displaying characters correctly, it could be a misconfiguration of your server. Make sure that both httpd.conf (when using Apache) and php.ini are set to DefaultCharacterset = utf8 or switch the sending of a default character set off.
A SCORM package must contains in the root of the zip a file named xmlthat defines the SCORM course structure.
 
LearningZone Learn can't create SCORM packages - the SCORM module is simply for deploying SCORM packages.
Creating a SCORM Activity
Click Turn editing on.
Click SCORMfrom the Add an activity
Enter an activity name, this appears on the course page for learners.
Enter an activity summary.
Click Choose or upload file.
Select the zip SCORM package (click upload fileupload the package into the files area if not already done) by clicking Choose.
Set the SCORM/AICC Settings (see below to learn more).
Set the Activity completionsettings if required.
Click Save and return to courseor Save and display.
SCORM settings
General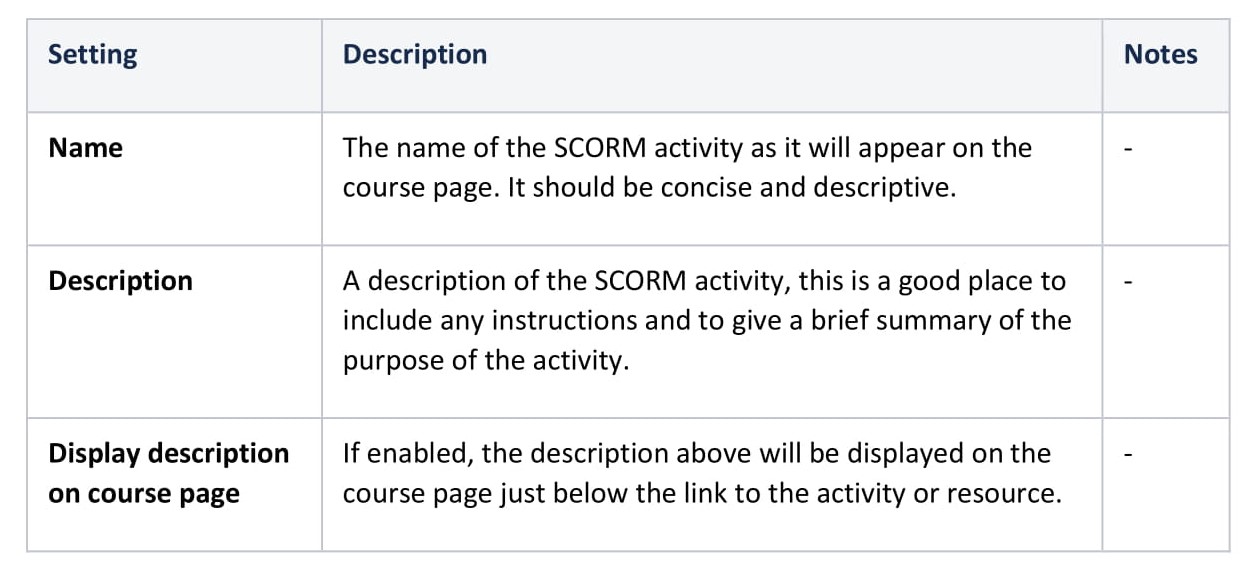 Package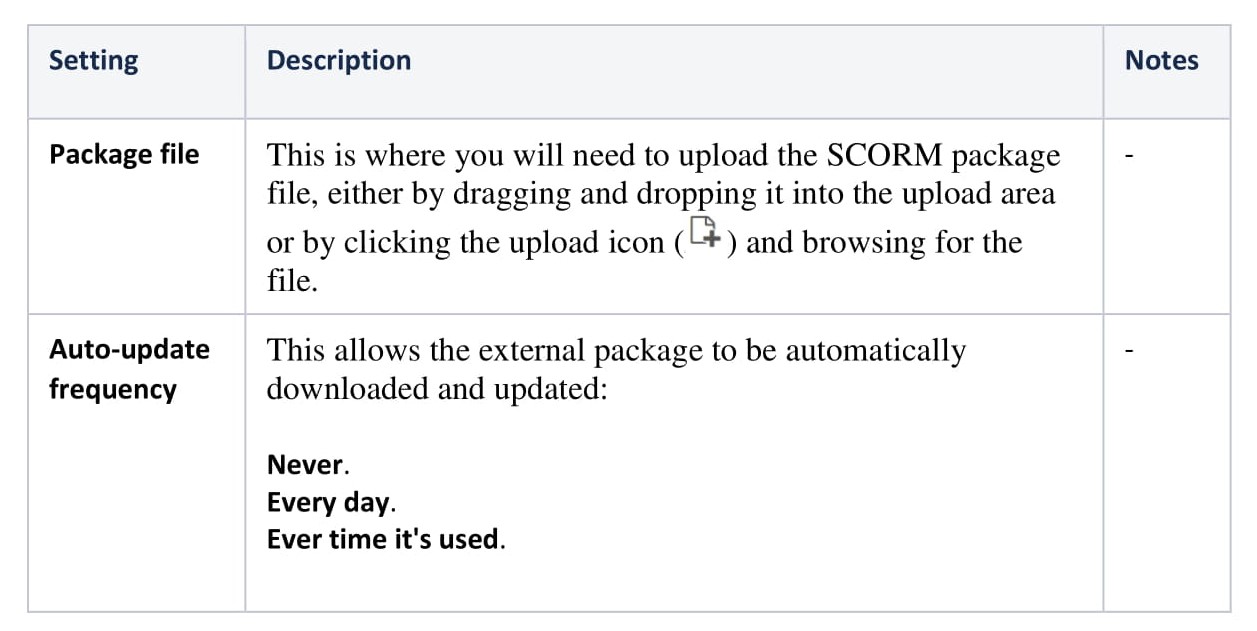 Appearance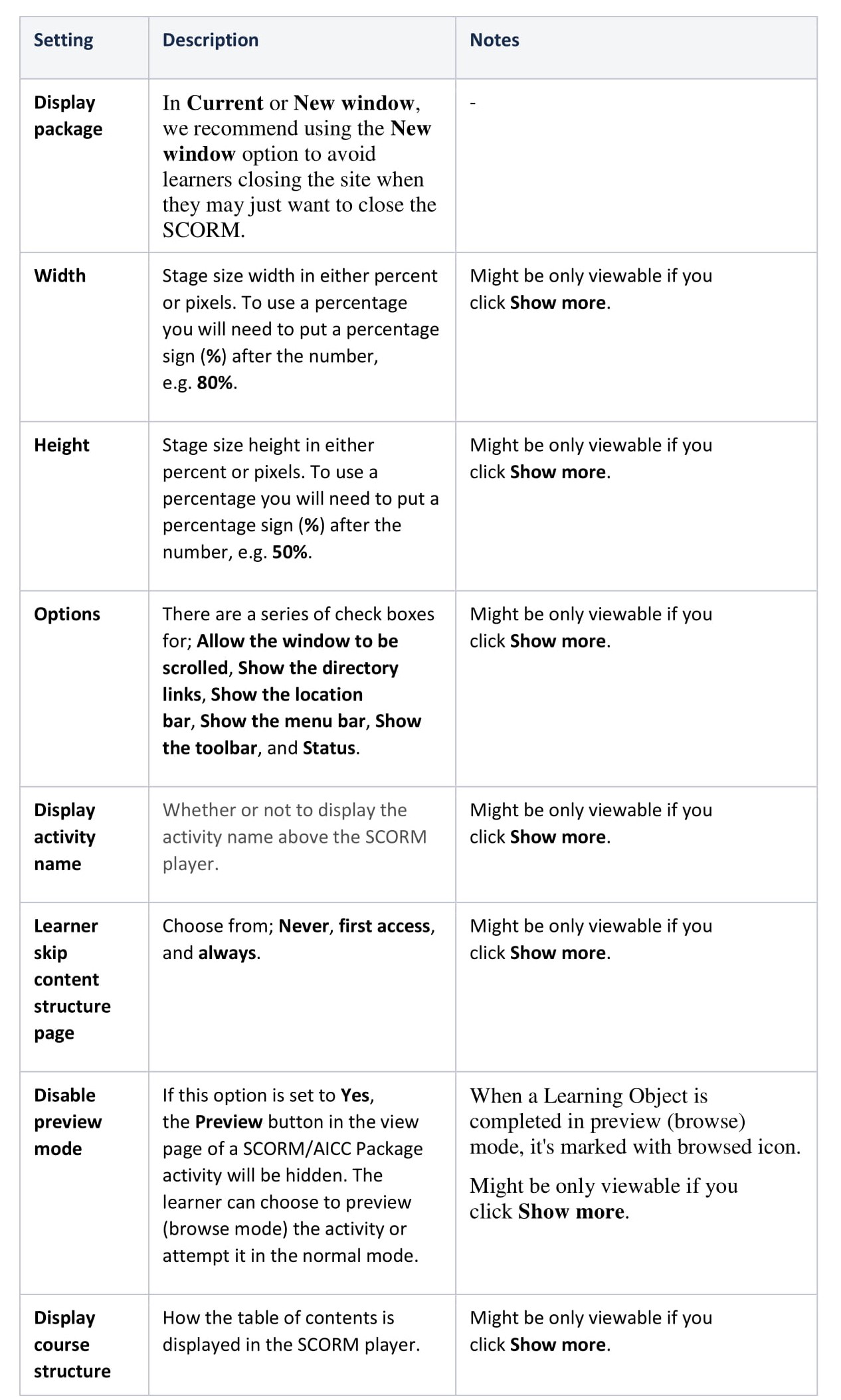 Availablity

Grade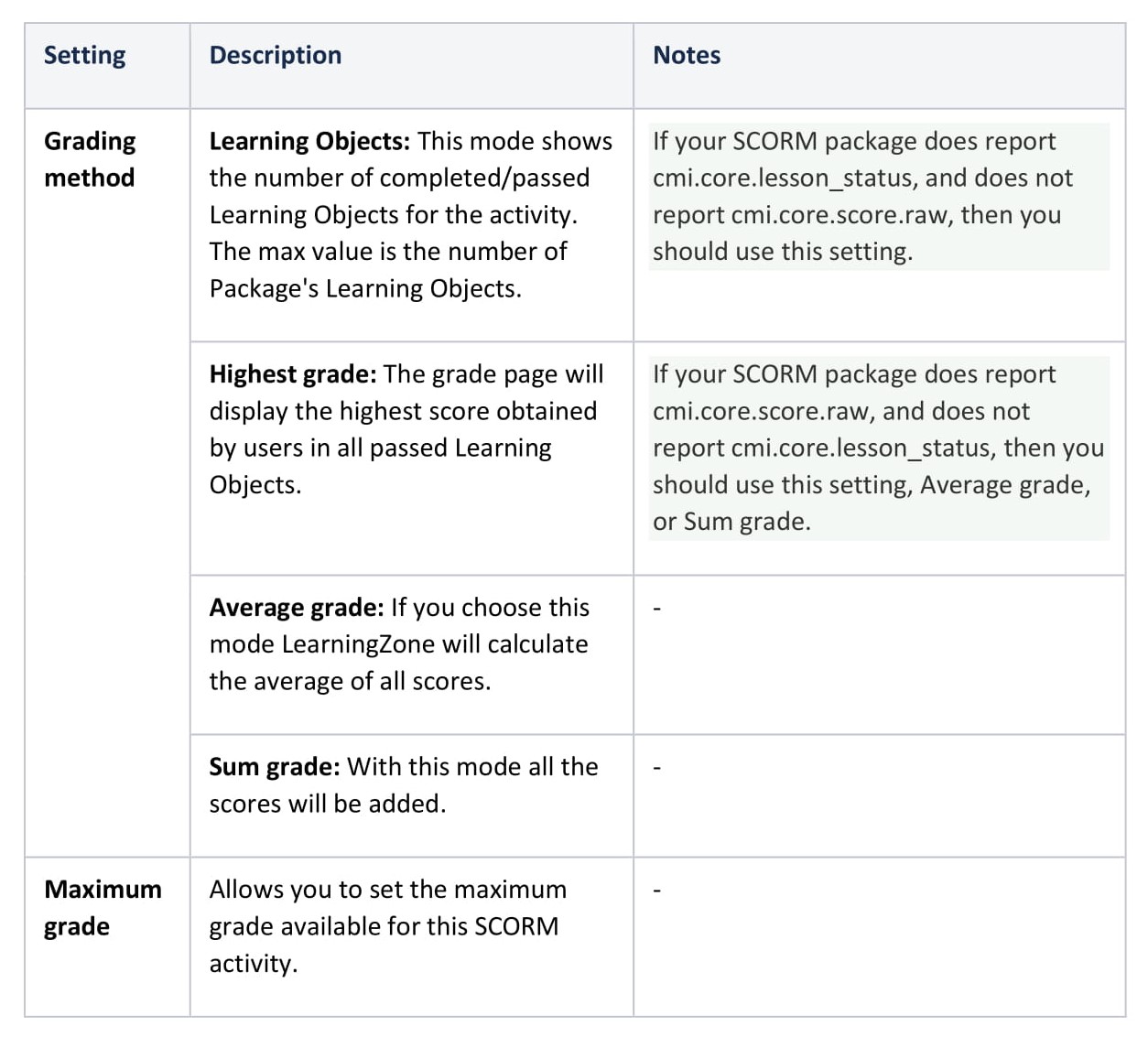 Attempts management

Compatibility settings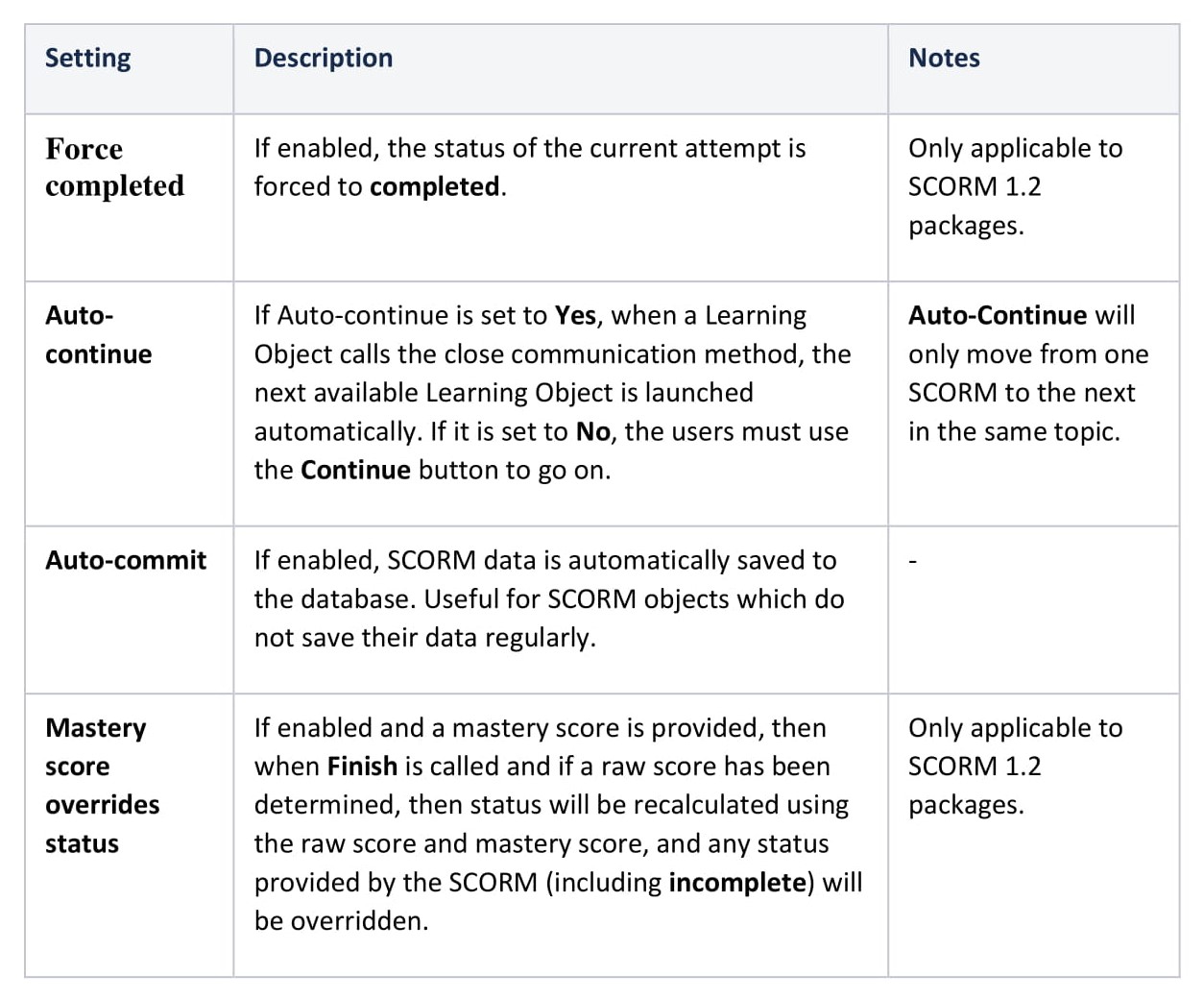 Activity completion
Most of these setting are standard, for these please see Activity Completion to learn more. 
However, listed below are some addtitional setting options for SCORM activities.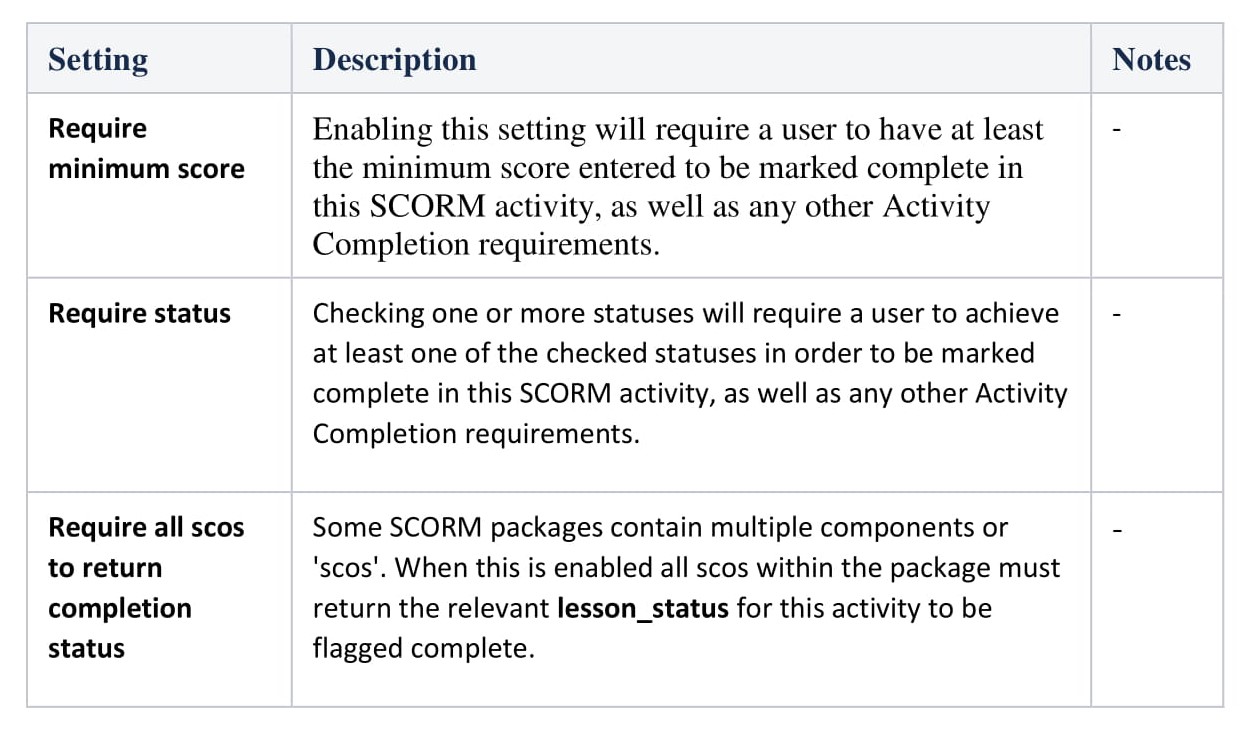 SCORM reports
Once learners have started to take the SCORM activity you will be able to see reports on the usage of the package by clicking the Reports tab.
There are four different reports to view:
Basic report:Shows how many attempts each user has made, when they first and most recently accessed the activity. 
Graph report:Shows a bar chart of number of users and the percentage secured (how far they have gotten in their attempt). 
Interactions report: Allows you to see a summary of learners attempts along with questions, responses (given by the learner), right answers, and results.
Objectives report:If a SCORM package is set up to report course objectives then they will be reported on here. 
All reports (except the Graph report) can be filtered and exported to either ODS, Excel or text format.